[[Design with Antiques]] Shabby Chic
So, what IS shabby chic and when did it start to become a fashionable style for your home? Why did we all start wanting things to look worn, lived in and a bit threadbare instead of shiny and new?
Shabby chic…
…could have been born from a few different movements and became trendy by the early 2000's. It's a little bit antique, a little bit retro and yet it is a style which wants to specifically distance itself from the individual piece's original period or era.
There's a few reasons people might have started to go to the shabbier side of chic and one of these could be for eco reasons. Reusing has become a trend in our society and it's wonderful to see that old items are being given new life.
Secondly, antique and vintage has become popular again with people looking back on days gone by with envy of the simple way that life seemed to be lived.
More and more we are wanting to go back to grass roots and reusing items from era's long past, we can hold onto that time and be reminded of it in our home.
There are loads of different ways to decorate with shabby chic but a few of our favourites are through crockery, homewares, furniture and bric-a-brac.
Crockery
Forget about matching your sets and don't even worry if they're from the same company, shabby chic lets you mix and match with beautiful antique pieces, op shop finds and even repro pieces to make a fun and eclectic collection.
Key things to think about:
Stick to 1 colour or element. e.g. Try finding all pink pieces in different florals, block colours and  patterns so there is a universal theme. Or forget a colour and just buy all florals in various colours and shapes.
Try to make sure you at least have 6 of each item. No point having 20 saucers and only 2 teacups!
Think about your own home and how your new collection will fit in with your decor and perhaps some crockery you already own.

Homewares & Furniture
Finding homewares in this style which are suitably worn but not 'worn out' can be a little more tricky. Best to be open minded and to brush up on your mending skills so if you find the perfect piece you can spruce it up a little.
Again, it's important not to matchy-match anything in your home if you're trying to achieve the relaxed opulence of shabby chic. In the loungeroom, try pairing some vintage chairs with newer cushions (or vise versa) and adding some retro artworks to your walls.
Often wooden furniture with peeling paint can be buffed back and varnished to retain it's 'shabby' charm but make it more functional (and less paint chips rubbing off on your clothes!)
What you should consider
Functionality should always reign! Unless you can fix the broken chair leg, don't buy a chair you'll never sit in.
Make sure there's still 'life' left in your purchases – they need to give you a few more years so they can't be on their last legs.
Tie together with a loose theme and stick to it. Don't buy that blue fuzzy cushion if you're going for a floral theme!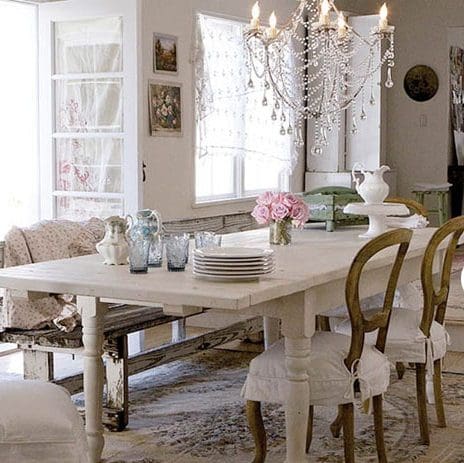 Bric-a-Brac
Probably the shabby-chic-enthusiasts best friend, you can find all manner of amazing in the bric-a-brac section.
This could include kitchenalia which is functional but also sits out on your counter and looks vintage-cool, figurines and umbrella stands, vases, lamps and candle holders. Whatever takes your fancy!
Things to remember:
Theme – have you figured yours out yet? Don't buy that talking seabass on the wall unless you're going for a 'cabin in the woods' feel.
Don't just buy cheap stuff. Look for quality pieces which will make your home feel decadent and which you may even want to pass on to your children.
If it's decorative AND functional, thats a big tick as it means you don't have to buy two different things!

If you have any great tips about shabby chic decorating, let us know below in the comments!
References:
Shabby Chic – Wikipedia
Style at Home